ROYSONS
Endless Capabilities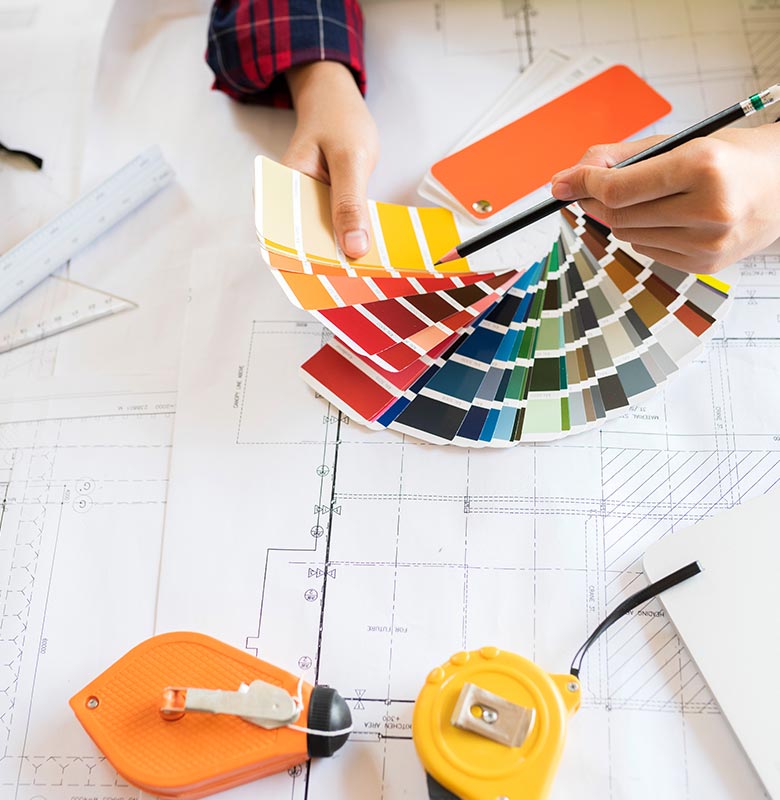 Roysons Studio has end-to-end design capabilities, from original texture and depth embossing, to color creation and matching, and everything in between.
Design
DESIGN STUDIO
We understand that extraordinary design is an essential element of every product. Our design studio continually creates innovative products through the exploration of pattern, material and technique. Our inspired stylists research the market and participate in leading color panels collecting valuable insight which keeps us in the forefront of color and design.
When it comes to in-house design and creative services, our state of the art studio truly offers beautiful solutions. Our talented staff has the creativity, vision and tools to turn an idea - whether is yours, ours or a combination - into a beautifully designed and impactful final product. We utilize the latest computer assisted design equipment along with the fine art skills of traditional artists, to create an infinite variety of designs.
THE ROYSONS ADVANTAGE
Our studio works closely with suppliers and customers on the innovation and development of new products and special effects, ensuring we maintain our presence as leaders in design and technology. Our goal is to offer a fresh perspective that will ultimately reveal a superior product.
Strike-Off Machines produce real samples of the finished product prior to production, ensuring complete satisfaction in design and color.
Digital Printers offer the great advantage of generating proto-types and mock up room sampling, saving time and money before engraving the designs on actual tooling.
Printing
SUPERIOR PRINTING
Roysons' rotogravure presses print attractive patterns on an extremely wide range of conversion products for the furnishing industry, as well as many others. High-fashion residential wallcoverings, awnings and pool-liners, decorative decking products, vinyl upholstery, the fine detail of cartoon characters on kids finger bandages... we print them all, and a great deal more.
Roysons' wide presses print up to 6 colors in register, while the narrow presses can print up to 8 colors in register. All produce high-quality results on a tremendous variety of substrate materials: vinyl, coated or uncoated paper, coated and uncoated non-woven materials, and fluorocarbon and other non-PVC films.
Industrial printing is an exciting, expanding field - and to stay on the cutting edge, Roysons is constantly improving and new equipment, There's practically no limit to the products that can be printed or the aesthetic results that can be achieved.
A SAMPLING OF WHAT WE PRODUCE
- Decorative wallcoverings (residential and commercial)
- Decorative finger bandages
- Vinyl pool liners
- Awning Materials
- Juvenile vinyl furnishing materials
- Shelf liner (residential and commercial)
- Vinyl shower curtains
- Mattress covers
-The possibilities are endless.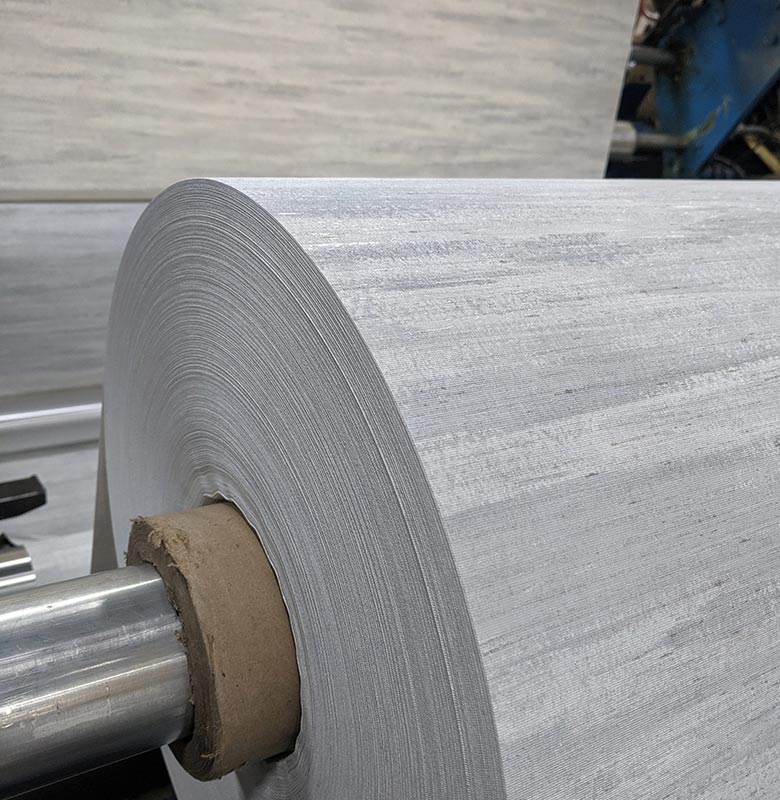 Roysons Wallcovering employs state-of-the-art rotogravure technology, which is controlled by some of the most skilled specialists in the industry. Our wallcovering division regularly produces true works of art in the form of exclusively textured wall decor.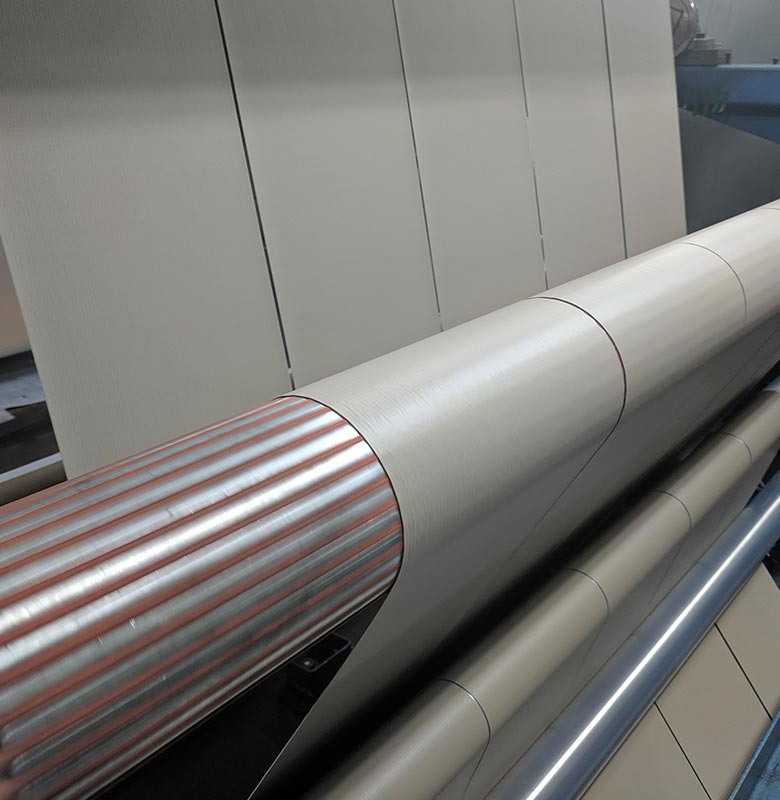 As so much time, effort, skill and creativity are put into our wallcoverings, shelf liners, etc., we've dedicated a tremendous amount of resources into perfecting our proprietary coatings. We believe that every product that passes through our plant is a work of art and deserves to be protected by the most effective coating possible.
Coating
PROTECTION IN DEMANDING ENVIRONMENTS
When materials must stand up to demanding environments, such as hospitals or hotels, extra tough abrasion-resistant and stain-resistant coatings can be applied on press. 100% coverage is available on substrates up to 80" wide.
APPLICATION-BASED TOPCOAT DEVELOPMENT
Industrial projects, such as awnings, roofing membranes and decking products, often require unique topcoats. We offer water-based topcoats for superior UV protection. In addition to our proprietary coatings, we can develop a topcoat to fit your specific requirements.
Lamination
LAMINATING EXPERTISE
Roysons offers our expertise in lamination to a host of well-known companies who convert these laminated materials into an endless variety of brand-name products. The collection of products and the range which we can cover at Roysons is astounding. We take pride in our ability to overcome new and unique challenges. Laminated Vinyl products offer a great many advantages to our customers and end-users alike. They are moisture-resistant, breathable, washable and scrubbable. Their decorative surfaces, no matter how delicate in appearance, repels stains, dirt, grease, etc., allowing them to withstand the tests of time and environment.
Our state-of-the-art equipment comprises of three multi-ply laminators with web thickness from .003 mm to .090 mm including: - Two dual-drum laminators, maximum 80" width and 94" width - One single-drum laminator, maximum 80" width All of our laminators are also capable of embossing, with a range of 80+ appealing embossing patterns available.
A SAMPLING OF WHAT WE CAN PRODUCE
- Vinyl upholstery
- Vertical blinds and window shades
- Decorative wallcoverings
- Shelf Liners
- Juvenile furniture upholstery
- Awning materials
- Decking and roofing membranes
- Digital grounds for signage
- Shower curtains
- Bandages
- Mattresses
- And just about anything else you can think of...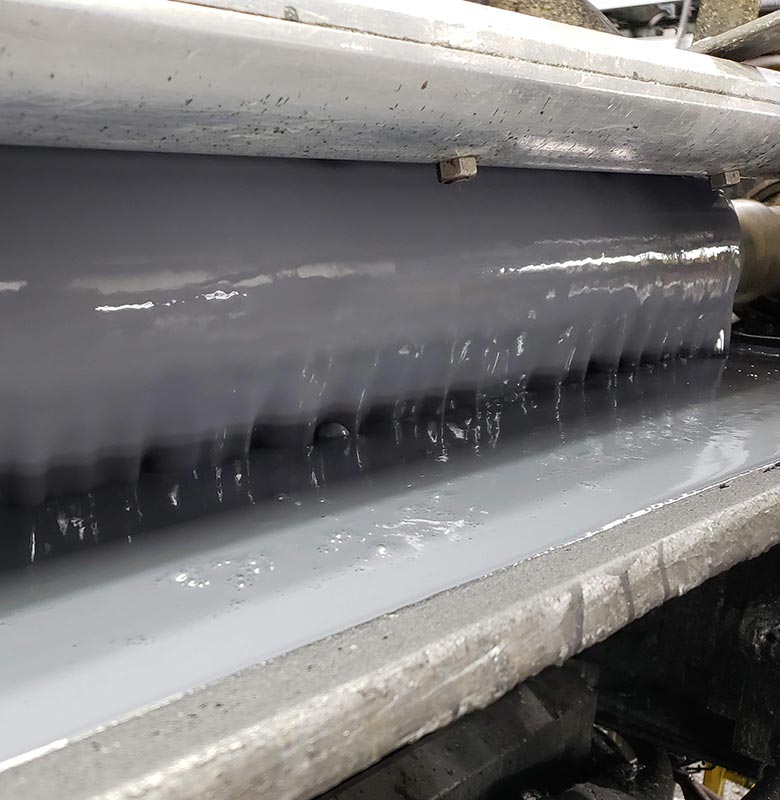 Our exclusive lamination process makes your products moisture-resistant, breathable, washable and scrubbable.
Decorative surfaces, no matter how delicate in appearance, repels stains, dirt, grease, etc., allowing them to withstand the tests of time and environment..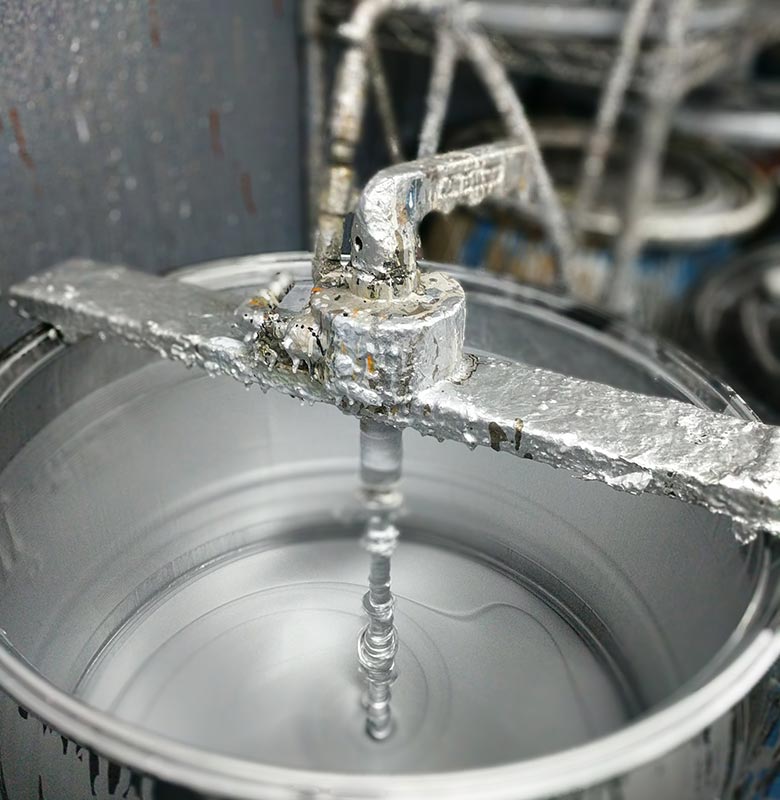 We haven't even cracked the surface of everything we can do with our state-of-the-art equipment and skilled operators.
We rely on our customers to push the boundaries, create challenges, and we thrive in meeting those challenges day after day.
Custom Capabilities
MEETING NEW CHALLENGES

The creativity of our clients is a challenge we love to meet each day. If your design project requires a custom look, we welcome the opportunity to develop a custom wall covering that fits your needs. We provide innovative solutions for custom patterns, special color matches or unique embossings. Our state-of-the-art design studio provides concept-to-sample service, which allows clients to evaluate accurate replicas before production. We also offer the advantage of digitally printed and embossed samples - which can be used for mock-up rooms and sampling prior to engraving any tools.
These high quality samples are calibrated to accurately match our production machinery.
ROYSONS ADVANTAGES
-Access to large library of textures and design files
-Access to large library of unique embossings
-AVA / CAD color & design programs
-Live Strike-Off machines supply beautiful accurate finished samples
-Digital Strike-Offs on embossed substrates offers sampling before investing in tooling
-Special effect inks and substrates
-Innovation team eager to satisfy our customers
-Quick turn-around
Private Labeling
PRIVATE LABEL PROGRAMS

Our expertise in manufacturing, custom design capabilities and superior customer service have made us a top choice for private label programs. We are the visionary producer behind many of the industries most sought after brands. Roysons maintains this position as a premier partner, by offering distributors and converters the opportunity to work together and create extraordinary collections. We envision, invent, style, communicate and present.
THE ROYSONS ADVANTAGE

- Enormous library of print cylinders, most on digital file for easy inter-mixing
- Expansive and unique embossing library
- Innovative special effects
- State-of-the-art- design studio, utilizing AVA color and design programs
- Talented and inspiring design staff
- Superior quality, accurate Strike-Offs
- Digital pre-press mock ups
- Environmentally-friendly substrates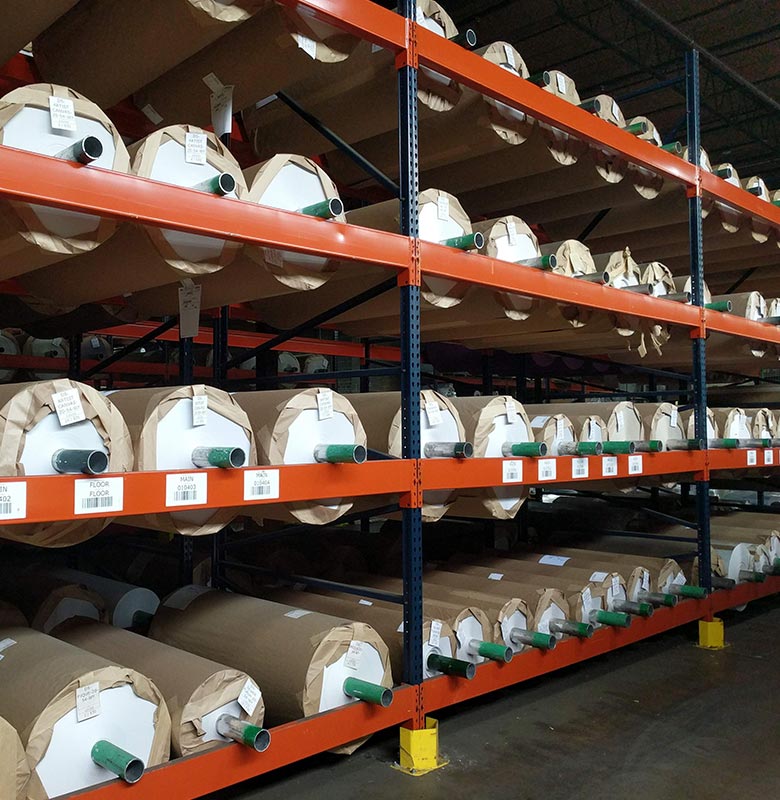 We are the top choice for private label programs within the industry.
Customers choose us because of the consistency in our manufacturing quality, our custom design capabilities and our outstanding customer service.